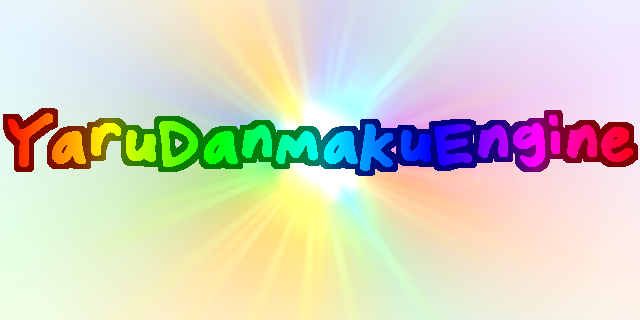 YaruDanmakuEngine
A downloadable engine for Windows
A GameMaker:Studio source file with a lot of systems in place, letting you either easily create a danmaku/scrolling shooter game with minimal effort by using the existing resources, or expand on a powerful extensible framework to kickstart your massive shmup project. There are versions for both GMS1 and GMS2, tested using the latest stable release for each.

Features:
Use simple queue-based scripting systems for enemy behaviors, stage sequencing, and cutscenes!

Easily make cutscenes!
Easily make new enemies, all you need is to draw a sprite and set some variables like HP and loot!
Or even have the same types of enemies in different waves attack with different bullet patterns or movement!

More complex state-based system for bosses:

adjust bullet pattern and movement individually!
Automatic transition between different attack patterns at indicated HP levels, including explosion effects!
Bosses handles everything automatically, including special effects, triggering cutscenes, and drawing their HP bar! Making bosses has never been this easy!
Attacks can be flagged as "spellcards" to get a special animation displaying their name!

Player character system intended for multiple playable characters, and easily extensible!

Players have separate main, powerup and option attacks! Each attack can be customized with different attack patterns, sound effects and delays to control every little detail with just one line of code!
Powerup system that makes your attacks stronger as you collect power fragments, with fragments being dropped on death!
Options system that let you control an arbitrary number of turrets following you around, putting Gradius to shame!
Screen-clearing bombs that make you temporarily invincible!
Combo system that rewards good play with massive bonuses!

Comes with two example playable characters with vastly different attacks, two example bosses with unique spellcards and attack patterns, and two example stages with different enemy layouts!
Features leaderboards system out of the box! Name entry is automatic on Game Over or beating the game, and every leaderboard entry indicates both player name, score, game progression and what character was used!
All scripts and objects has thorough comments that explains their functionality.
Easy to edit and extend to suit your needs.
Comes bundled with professional music, sound effects, and graphics!
Credit appreciated but not mandatory.
Can be used in commercial games, but do NOT resell the source code itself, even if modified.
Purchase
In order to download this engine you must purchase it at or above the minimum price of $14.99 USD. You will get access to the following files:
Source Code (GMS 2.3)
16 MB
Source code (GMS2.2)
16 MB
Download demo
Comments
Log in with itch.io to leave a comment.
hi, what does this operation mean <>? I was a little lost here
It's the same as != . I suppose it's supposed to mean "greater than or smaller" (aka everything except equality). I started using it after seeing it in some official Game Maker code and thinking it looked cool, but stopped some time later after realizing that no other language uses it and it just confused people.

will there be any promotions this week?
You'll just have to wait ~11 hours and see ;)
Updated the project to 2.3. It seems to work without changes.
Hi, I have purchased the asset but it doesn't let it run. It shows me an error saying: "GameMaker Studio AssetCompiler has encountered a problem. We are sorry for the inconvenience. Index was out of range"

Sounds like a problem with GM, but I could be wrong. What version are you using, GMS1 or GMS2? Does it tell you WHAT index is out of range? The free version (of both GMS1 and GMS2) also has a limitation on the number of assets you can use (something like 25 of each type), so if you use that it might not be able to compile the game.
I'm using GMS2 the full version. It maybe it is a problem with GM, because one day before the engine got update and it maybe came with some bugs. But don't worry, I studied the code and I have implemented my own engine.

About the error, the message doesn't says to much. It literally say what I put in the previous comment.

Then it's one of the most un-informative error messages so far... Yoyo pls <__<
And yeah, from my experiences GMS2 is so buggy it should still be in beta... glad you could still import some of the code, at least!
You could try using the "add existing <resource type>" right-click option (or dragging scripts/sprites into the GM window) to speed up the process, or try re-importing the project files to an empty project, in case there's some version compatibility issue (it might even help importing the GMS1 project instead of the GMS2 project)... but if you've already set it up to work the way you want I guess there's no point in trying to figure out what the problem is. The fact that the error claims the asset compiler is failing makes this seem very weird...

I just purchased and I'm having the exact same issue. I'm running GMS2 IDE version 2.2.0.346 and Runtime version 2.2.0.261. Although I can conform importing the GMS1 version worked for me. Strange, but thanks for the prior suggestion.
Just checked, it should still be up... it's at the bottom of the page, after the "buy now" button you should see a "download demo" button.

Tried logging out and downloading them anonymously just to make sure it's not just because I'm the file owner, and I could download and run both the EXE version and the ZIP version.
If you can't run the EXE properly, try downloading the ZIP version, it's a bit more compatible.

Thanks i'm able to download it now. Chrome was just being goofy.
Glad to hear it's resolved!
Yeah, Chrome can be a bit overprotective when it comes to downloading stuff, especially from indie sources. I personally use Firefox... but that's mostly because Chrome uses so much system resources it lags some of my other programs :P