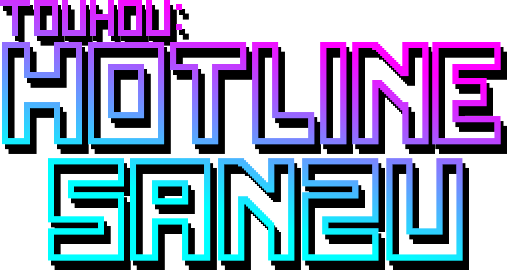 Touhou: Hotline Sanzu
A downloadable game for Windows
[Content Warning]
Contains flashing lights, gore, dismemberment, drug use, political satire, and suicidal themes. Player discretion advised.

Wake Up
An arcade shooter / immersive sim where you solve problems with guns, backstabs, and strategic use of vents.
Perform hostile corporate takeovers, clean up criminal syndicates, and try to get out of your literal dead-end job at the japanese ministry of death and reincarnation.
Bad Apples
A dark reimagining of the Touhou universe as a corporate dystopia, shamelessly ripping off inspired by games like Hotline Miami and Cruelty Squad.
A "Cleaner" at Sanzu Corporation, Reimu finds herself trapped in a whirlwind of fairy drug trade, corporate-sanctioned mass murder and nonsensical architecture as she tries to find out who sends her cryptic phonecalls and find a way to either death or a better-paying job.
In a world where Styx, Sanzu and every other river separating life and death has been privatized, dying is a privilege for only the richest and mortal office workers are stuck in an endless cycle of pain and overtime.

Better Than Realism
Send enemies flying across the room with a single well-aimed bullet. Smash them into the floor to burst them like piñatas of blood and entrails. When you run out of bullets, throw your gun in the enemy's face.
The blood and destruction isn't there because of shock value, or for some profound message about how violence affects people. It's there because it's awesome to blow shit up!

Become a Better You
Spend your hard-earned mission paycheck on cybernetic augmentations and all sorts of weaponry!
There's no right or wrong way to play. Shivs, silenced chainsaws, shotguns and rocket launchers all are at your disposal... letting you dispose of enemies with style!
Of course, you're gonna need all the firepower you can get as you dive deeper and deeper into both proverbial and literal bullet hell...

Nuclear Options
Features tons of grating effects that will make your eyes bleed! Enter a trance of flashing lights, chromatic abherration, and VHS artefacts as the techno beat keeps your heart pumping at 220 BPM.
The effects can be turned off in the options menu if you can't take it anymore, some of them can even be turned up to higher settings than the defaults if you feel like you need even more punishment.
Download
Click download now to get access to the following files:
Touhou: Hotline Sanzu (v 1.2.1)
100 MB