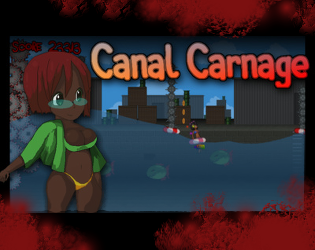 Canal Carnage
A downloadable game for Windows
Canal Carnage
---
Remember back in the days when schoolgirls would just sit with their phones during their lunch breaks? Canal Carnage is set in 2057, where the most popular sport among schoolgirls is racing illegally in canals, chased by an giant chainsaw abomination that will tear anyone touching it to shreds. Will you make it through the canal or will you paint the walls with your intestines? There's only one way to find out, and it starts with carnage!
---
6 playable characters, each with their own advantage to even out the odds!
Do you think collecting coins for bonus points is boring? You can spend them on a multitude of items that can be used to permanently upgrade your character, ranging from armor to lucky charms and a parachute!
---
Fast paced arcade action with no holds barred!
Tons of different combinations of characters and equipment, allowing for over 40 different gameplay experiences!
Spend the coins you collect on upgrades, new items, or new characters!
All equipment can be upgraded for greater effect!
Adaptive sound when you get underwater or get too close to a chainsaw!
Adaptive difficulty! The further you go unscathed, the more difficult things get!
Blood!
Can be played with one hand, letting you eat or use your phone while playing!
Download
Click download now to get access to the following files:
Comments
Log in with itch.io to leave a comment.
How did I even end up here? X)
No idea. This game is an output from a project where I tried making one game per day for a month (and consistently failed and had to go over deadline) and I basically only banked on the thumbnail to get attention :P I've not promoted it since and sort of forgotten it existed. So uh, to answer your question, I'd bet some mix of urban exploration or cursed artefacts...?
Your thumbnails do have a good clickbait quality, I like them.
Cursed artefacts might explain things.